Finding the best tires for a Honda Rancher 420 isn't as easy as many would think.
Not only do you need to consider the obvious things, like your most common riding conditions, price-to-performance ratio, but also more specific things, like tire size, clearance, and limited tire choices for the rear 11" rim.
To save you the headache of having to account for all of that, we've done the research for you and found the five best tires for Honda Rancher 420.
Note: Unsure which are the biggest tires that you can fit on a Rancher 420? We'll cover that at the end of this article.
11" Rear Tires Limit Your Options
Unfortunately, your options while tire shopping are limited with the rear 11" rims that come with the Honda Rancher 420 from the factory. Their size is so uncommon, that a lot of popular tires will not be available to you, since ATV tire manufacturers don't make them for such an uncommon rim size.
However, there is a cheap and quick solution to that – second-hand (or new) 12" rims from the Honda Foreman. This size is very common and you will have no trouble finding tires for them. Better yet, a set of used Foreman 12" rims will cost you around $50 or less. Because of that, most tires on this list will not be available in 11".
But if you dislike both Rancher and Foreman stock rims, then this is the perfect excuse to buy a new set of aftermarket rims.
---
The Five Best Tires for Honda Rancher 420
Best All-Around

1. Maxxis Zilla



• Great traction on all surfaces
• Comfortable and responsive
• Radial-ply
• 6-ply

Check Price On Amazon

Best Mud Tire

2. Kenda Executioner



• Great traction on severe mud
• Rim saver
• Bias-ply
• 6-ply

Check Price On Amazon

Best Trail Tire

3. Maxxis Bighorn



• Great traction on trails
• Extremely popular
• Comfortable and responsive
• Radial-ply
• 6-ply

Check Price On Amazon

Best Value

4. ITP Mud Lite



• Great traction on mud & trails
• Lightweight
• Bias-ply
• 6-ply

Check Price On Amazon

Best Snow Tire

5. Kenda Bear Claw EVO



• Great traction on snow
• Lightweight
• Radial-ply
• 6-ply

Check Price On Amazon
---
1. Maxxis Zilla

– Best All-Around
The Maxxis Zilla is an extremely lightweight tire with an aggressive tread that grips extremely well on almost all surfaces, but won't rattle your fillings out on hardpack or bog down your Rancher 420.
That, in combination with its low price point, is why the Maxxis Zilla is one of the most popular ATV tires ever made. Because of that, the Zilla is truly worth the title of the best tire for Honda Rancher 420.
Traction & Durability
On the trails, the Zillas are great. Their lightweight but strong radial-ply design translates into a comfortable and predictable ride, while also minimizing the amount of power loss that inevitably comes with running big and aggressive tires. Though, you won't have to worry about punctures since the Zillas are 6-ply.
They grip solid surfaces like rocks, gravel, hardpack dirt with ease, but not as well as a dedicated trail tire. Because of that, the Zillas can break loose on corners if you push them hard enough, but since they feel so predictable, drifting with them is very fun.
As for the drawbacks on hardpack, the Zillas are pretty bumpy at crawling speed due to their aggressive tread pattern, but once you speed up a little, all the bumpiness disappears.
The Zillas are even better on mud, which is unsurprising. The tire's tread pattern was inspired by the Maxxis Mudzilla (one of the best mud tires ever), but redesigned for more comfort on the trails.
Because of its mud-tire-inspired tread pattern, the Zillas float over mud and paddle away instead of digging in and sinking. The same goes for snow, the Zillas just float over and easily get you through. Though, if you encounter a really deep mud hole, then you're much better off with a dedicated mud tire.
---
2. Kenda Executioner

– Best Mud Tire
Want even more traction on mud? If so, then Kenda has got you covered. Their Executioner line dedicated mud tires perform and look exactly how you'd expect a tire with such a badass name.
Surprisingly, the Kenda Executioners are also pretty light on the wallet.
Traction & Durability
With a huge tread depth and the tread pattern of a heavy-duty agricultural tire, the Kenda Executioners provide outstanding deep mud and snow traction. The tire's huge lugs are angled similar to paddle tires, which is extremely important on extreme mud and snow.
The Kenda Executioners float over even the deepest mud holes and paddle forward instead of digging in and sinking. Furthermore, the tire's self-cleaning capability is outstanding, especially if you keep the tire spinning fast enough.
Similar story on snow as well. The Kenda Executioners provide excellent traction on deep snow and the addition of the dimpled tread surface gives the tire even more biting edges. A good choice for snow plowing and hardcore mudding.
Now, as for hardpack, the Kenda Executioners are fairly decent. They are a bit bumpy at low speeds due to the aggressive tread pattern and the tough bias-ply design, but aren't bad at all at higher speeds. They also feature a rim protector, which is a very nice addition to an already beefy and tough 6-ply tire.
They tend to slide on gravel quite easily but feel quite predictable. To that end, if you're mostly riding your Honda Rancher 420 on hardpack dirt, gravel, or rocks, then you're probably better off with a trail tire.
---
3. Maxxis Bighorn

– Best Trail Tire
But what if you want maximum performance on the trails for your Honda Rancher 420? In that case, look no further than the Maxxis Bighorn.
They're designed for great traction all around, doesn't matter if it's mud, snow, gravel, rocks, or asphalt – they will get you through.
Traction & Durability
Because the Bighorns are radial 6-ply, they offer a surprisingly comfortable and smooth ride both on and off-road. They're on the heavier side when it comes to radial tires, but still are far lighter than any bias-ply tire. In most cases, you will barely notice a difference in power on your Honda Rancher 420 if at all.
On the trails, the Bighorns are hard to beat. They soak up rocks and bumps effortlessly and ride silky smooth. Getting them to break loose on hardpack is quite a challenge and because of that, the Bighorns inspire confidence on corners and at high speeds.
Performance on mud is very good. The Bighorns deal with moderate mud effortlessly since they do not dig down and sink like a lot of other all-terrain ATV tires do. But while they do great in moderate mud, it's a different story on deep mud holes. In our experience, they struggled in real mud holes and got caked up quite fast. Therefore, if you're planning on riding your Honda Rancher 420 over serious mud holes and swamps, then you might want to choose a dedicated mud tire.
With that said, the Bighorns really shine on rocks. Their tread compound sticks to rocks like glue and the heavily lugged sidewall provides great protection against tears and cuts while rock crawling.
All in all, the Maxxis Bighorns can do it all. If you're mostly riding your Honda Rancher 420 on trails, hardpack, medium snow and mud, then these tires should be no. 1 on your shopping list.
---
4. ITP Mud Lite

– Best Value
The ITP Mud Lite is probably the most popular choice among Hond Rancher 420 owners, and it's easy to see why. It's very affordable, durable, great on all surfaces, and won't rob your Rancher of power since it's so lightweight.
Traction & Durability
As you can probably tell from the name, the ITP Mud Lite is lightweight and performs best on mud, soft dirt, and snow. The bias-ply design of the Mud Lite, in combination with large voids between lugs, gives the tire great self-cleaning capabilities, especially if you keep it rotating fast enough to sling mud away. Furthermore, they're 6-ply on top of being bias-ply, thus you won't be getting punctures and/or cuts often.
The Mud Lite floats over moderate mud effortlessly but struggles a bit in seriously deep mud. Though for most Honda Rancher 420 riders, the Mud Lite should be perfectly capable to tackle most tasks, but if you're looking for the best traction on extreme mud, then you might want to go with the Kenda Executioners.
The best thing about the Mud Lites is their surprisingly great performance on trails and hardpack. That's right, Mud Lites don't feel like mud tires on the trail. They're comfortable, grippy, responsive, and very predictable – completely opposite of most mud tires.
Because of that, Mud Lites are perfect for riders who want great performance on trails and above-average traction on mud and snow. That's probably why they are the most popular choice for Honda Rancher 420 owners, they simply get the job done.
---
5. Kenda Bear Claw EVO

– Best Snow Tire
If you use your Honda Rancher 420 for snow plowing, then you definitely know how much of a difference good tires can make. But to make your snow plowing easier and even more fun, Kenda has come up with the Bear Claw EVO.
Traction & Durability
The Bear Claw EVO's aggressive tread with large center knobs and recessed-dimpled knobs provides excellent traction on both packed and unpacked snow. The tire rips through snow very well and feels predictable on corners, mostly due to the tire's unique transition knobs.
Similar story with mud. The Bear Claw EVO makes quick work of moderate and even deep mud. It has great self-cleaning ability thanks to its radial-ply design and angled lugs.
The Bear Claw EVOs are also pretty great on hardpack. They feel secure and predictable while cornering on the trails and even grip to rocks pretty well. Though, it seemed to us that Kenda sacrificed a bit of on-road comfort for toughness and traction off-road.
Lastly, the Bear Claw EVOs were primarily made to be as lightweight as possible, without sacrificing off-road traction. Therefore, they won't bog down your Honda Rancher 420, and since they're 6-ply, you won't have to worry about toughness and puncture resistance.
---
How to Buy the Best Tires for Honda Rancher 420
---
All-Terrain, Mud, Sand, or Racing ATV Tires?
When choosing tires for your Honda Rancher 420, the most important thing to keep in mind is your riding environment.
By that, I mean, which type of terrain will your Rancher encounter the most? Is it deep mud? Maybe hardpack dirt on trails? Unpacked snow? These are the most important questions that you should ask yourself before you spend any money on tires.
There are so many tires available for the Honda Rancher 420 and all of them have their own strengths and weaknesses against every terrain. By being honest with yourself and which terrain you'll ride the most, you can get the most out of your money and won't regret your purchase later on.
Now, there are four main types of ATV/UTV tires. Of course, there are cross-over qualities between them, but it's always best to use tires for their intended purpose.
Mud ATV Tires
Let's start with mud tires since they are the most common purchase for the Rancher 420.
As the name suggests, mud tires are specifically designed to tackle deep mud and other soft surfaces. Interestingly, mud tires do very well on snow, thus most tire manufacturers no longer make snow tires.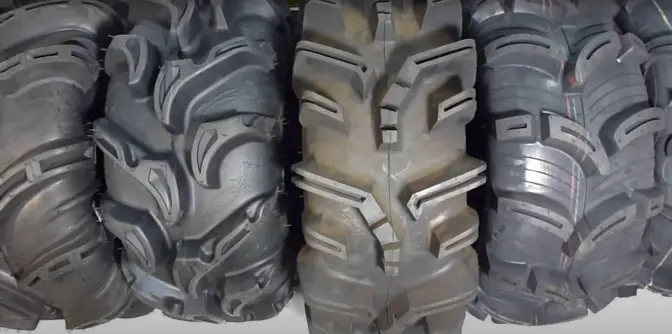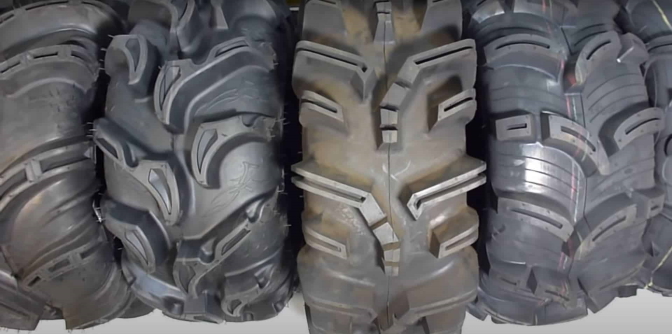 Mud tires can range from light, like the Swamp Lites, to extreme, like the Super Swamper Vampire II (nice name). They're also very durable and range from 6-ply to 8-ply (which is overkill unless you're riding on nails). As you might have guessed, mud tires are almost always bias-ply for toughness, rim protection, and self-cleaning.
Light mud tires will easily get you through most deep mud encounters and won't bog your Rancher since they're very lightweight. However, light mud tires are most often not aggressive enough to tackle serious mud holes.
In that case, extreme mud tires are the only way to go. They look ridiculous with their insanely huge lugs and weigh a lot, but if they won't get you through then no other tire will. The big disadvantage of extreme mud tires, especially for an ATV like the Honda Rancher 420, is their huge lug size and weight. The Rancher is simply not designed to run tires this heavy and they will seriously bog your ATV down. To add to that, huge lugs put a lot of stress on the Rancher's differentials, axles, and transmission.
Lastly, mud tires lack performance on hard surfaces, such as gravel, hardpack, and so on. I mean they are decent, and some of them even do really well on hardpack, but they will never grip as well as All-Terrain tires.
All-Terrain ATV Tires
All-terrain tires are designed to provide great traction on all surfaces, especially hardpack. Their contact patch is much larger than mud tires but their tread depth is shallower. This allows for outstanding traction on hardpack, rocks, and medium mud.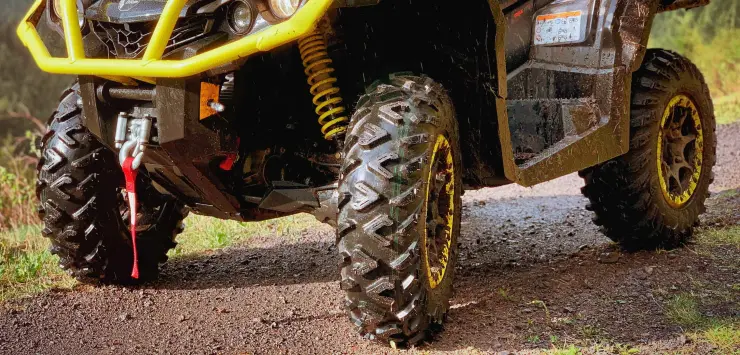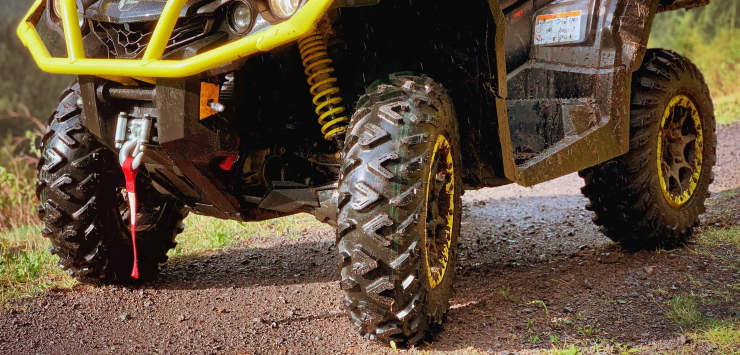 However, this works against the tire when riding over thick mud or unpacked snow. All-terrain tires get caked up with mud much easier and therefore lose traction quicker. They're simply not designed for serious mudding.
Most all-terrain tires are 6-ply and feature reinforced sidewalls and rim protectors, thus a lot of them are really great for rock crawling.
If your Honda Rancher 420 spends most of its time on trails, where hardpack and rocks are the most dominant, then all-terrain tires are perfect for you. Riding with them will be a pleasure on the trails, and occasional moderate mud will not stop you. However, if your Rancher spends a lot of its time on loose surfaces, like thick mud and snow, then all-terrain tires will be a waste of money. In that case, you're much better off buying mud tires.
Sand ATV Tires
Sand tires are very different from any other tire and are pretty much only usable on sand.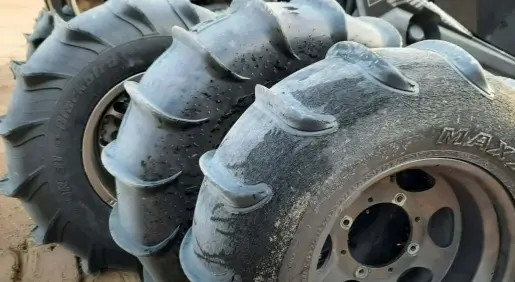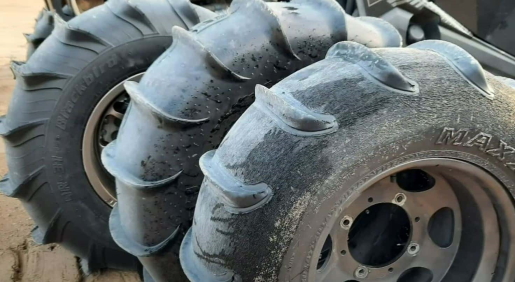 Their front tires are smooth with only a single or dual raised ridges in the center to slice through sand. The rear tires are also smooth but have big paddles to push off sand (similar to paddlewheels seen in paddle boats).
Unless you're riding your Honda Rancher 420 on sand like 80% of the time, then there's no point in buying them. They're not very usable on any other surface and are most often 2-ply, which is not very resistant to punctures.
Racing/Sport ATV Tires
Racing tires are pretty niche and not really a popular choice for the Honda Rancher 420, but we'll cover them regardless.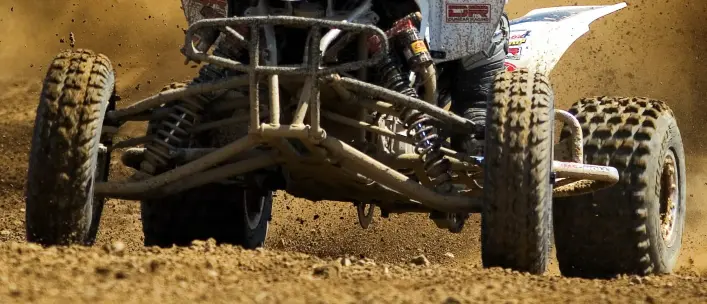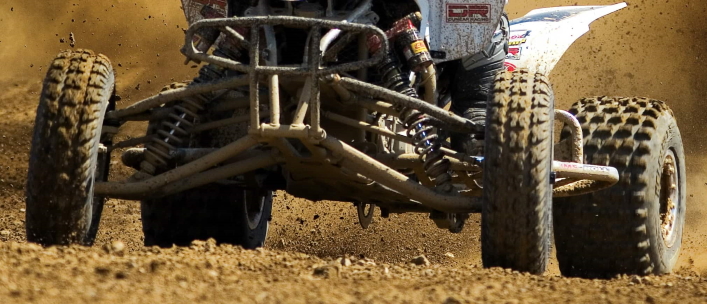 They have a consistent knob-type tread pattern and are made as lightweight as possible to as much horsepower as possible. The result is outstanding control, grip, feel, and response at high speeds.
With that said, they're 2-ply to save weight, wear out pretty quick, and don't do too well in thick mud. They're best used on sports ATVs like the Yamaha Raptor.
Radial or Bias?
These terms get thrown around a lot when speaking about tires, but what do they mean? Which one is better for the Honda Rancher 420?
On bias-ply tires, the sidewall and tread share the same ply cords. This allows the whole tire to flex and conform to surfaces, and is therefore perfect for heavy-duty applications, like rock crawling and deep mud holes. The disadvantage of bias-ply is that they are not as smooth and comfortable as radial-ply tires, and are a bit heavier.
Radial tires use cords that extend from bead to bead at 90-degree angles to the center of the tire. Because of that, radial-ply tires handle significantly better, ride smoother, and last much longer than bias-ply tires. Though, they are more expensive.
But which should you choose for your Rancher 420?
That depends on your riding habits. Do you mostly ride your Rancher 420 on trails at high speed? Then you might want to go with radials since they are smoother, lighter, and more responsive. On the other hand, if your Rancher 420 is a work ATV, or you spend most of your time riding slower speeds on harsh terrain, then bias-ply should be the obvious choice.
Choosing The Right Tire Size
After you've chosen which type of tire is right for you, the only thing left now is to figure out which size tires should you buy.
Now, while this might seem an easy thing to do, it's actually quite complicated and comes with its own set of problems, like clearance, bogging down, gear reduction, swingarm extension, etc. I've even written a whole article on it (The Biggest Tire on Stock Honda Rancher 420 – What You Need To Know), which I highly recommend you to check it out for more details on the subject.
But in short, you can put bigger tires on your Honda Rancher 420 – that's what most people do. The biggest tire that you can put on the Rancher without rubbing is 27". Some people managed to put 28" tires on their stock Ranchers, but if your shocks are worn out and the ATVs body is slightly lower than stock, you might not be so lucky.
As for tire width, most riders go with the skinny/wide combination. By that, I mean 9" front and 11" rear. This combination gives the best balance between handling, steering response, and traction.
Lastly, not all Honda Rancher 420 models will be able to spin big tires. For example, the AT model is geared very high and will bog down more easily with even 26" tires. Luckily, the ES and foot shift models can spin 27" tires, though gear reduction is still recommended.
Optimal Honda Rancher 420 Tire Pressure
Tire pressure is just as controversial of a topic as engine oil and every rider has their own idea of what the optimal tire pressure is.
While riders know what works for them, the absolute best way to know which tire pressure should you run on your Honda Rancher 420 is by consulting the ATV's owner's manual. Nobody knows your machine better than the engineers that designed it.
Now, you can definitely play around with different tire pressures. For example, lower tire pressure gives you less weight per square inch of ground contact, which increases traction on soft surfaces like mud and snow. On the other hand, higher pressures make it easier to turn but slightly decrease traction and comfort.
First, start with the tire pressures recommended by Honda in the owner's manual. For example, the TRX420TM owner's manual states that the recommended and optimal tire pressure for Honda Rancher 420 is 3.6 psi on both front and rear, even with cargo. These numbers differ from model to model, so keep that in mind.
Now that you know your Rancher's specific manufacturer recommended tire pressure, you can try out different pressures. Try decreasing or increasing tire pressure by increments of 0.5 and see if your Rancher 420 rides better.
Jake is the site's primary contributor.
Motorcycles and automotive repair have been a big part of his family for generations, therefore it's only natural that he decided to become a heavy-duty diesel tech.
Outside of work, you'll find Jake restoring and riding rare street bikes and ATVs.