The Foreman 500 is one of the most sold (and probably the best) ATVs ever made. It's already great, but it could do so much more and look more aggressive with a new set of ATV tires.
Now, there are so many tires to choose from and could take hours and hours of research. Lucky for you, we scoured the internet and found the five best tires for Honda Foreman 500.
Note: Rim Size, Tire Size, Bolt Pattern, Tire Pressure, etc. can be found at the bottom of this article.
---
The Five Best Tires for Honda Foreman 500
---
1. Maxxis Bighorn

– Best All-Around
The Bighorns are one of the best tires for Foreman 500 and certainly one of the most popular. They offer excellent grip on all off-road surfaces, while still being quite smooth on pavement due to their radial design.
If you mostly ride a mix of mud, dirt, sand, rocks, snow, and asphalt, then these tires should be no. 1 on your shopping list.
Traction & Durability
Because of their brilliant radial design, the Maxxis Bighorns offer a surprisingly smooth ride off-road and on-road. While the tire's radial design does make it lighter than its bias counterparts, the Bighorn is a little bit on the heavier side as far as radial tires go. At crawl speeds, you can notice the difference as you might need a tiny bit more throttle than usual, though it's barely noticeable and shouldn't be a problem.
On the trails, these tires soak up small rocks and bumps like they're not even there, and on asphalt, they ride silky smooth and quiet – all thanks to the tire's radial design.
The Bighorns float on mud and snow instead of digging down a hole, and therefore offer very good traction on muddy and snowy trails. However, dedicated mud tires would be a better choice for deep mud and swamps.
With that said, the Bighorns really shine on rocks. They grip to rocks like glue and the heavily lugged sidewall provides good cut protection and confidence while rock crawling.
As for durability, the Maxxis Bighorns are strong and durable due to their 6-ply design, thus punctures and cuts shouldn't be a problem. The tread life is decent and they should last you for around 5000 miles.
2. ITP Mud Lite

– Best Value
When the first-generation Mud Lites hit the market, they were praised for their great all-around performance and low price point. Now, more than a decade later, the first-generation ITP Mud Lite is still going strong and is considered one of the best ATV tires under a budget.
Traction & Durability
As the name suggests, the Mud Lites are pretty lightweight and absolutely perfect for moderate mud, snow, and soft dirt. The large voids between the tread lugs work like paddles and help the tire float over mud and snow without sinking and digging in. Furthermore, the bias design of the Mud Lite allows the tire body to flex, which helps with mud cleanout.
On the other hand, performance on hardpack is not the best. While the tire's paddle-like tread lugs do great on mud and loose surfaces, they don't dig in and grip as well as all-terrain ATV tires on hard surfaces. Now, they still perform very well on hardpack, but if your Foreman 500 on hardpack trails, then you might want to look elsewhere.
Lastly, the Mud Lites are 6-ply bias tires, unlike the Maxxis Bighorns above, and thus sacrifice comfort and tread life for strength, cleanout, and traction.
3. SunF A033 Power I

– Best Trail Tire
If the Mud Lites above do not offer enough hardpack performance for you, then SunF has got your back with their extremely popular and very affordable A033 Power I all-terrain tires.
Traction & Durability
The knobby angled tread design closely (or maybe too closely?) resembles our top pick – Maxxis Bighorn. With that said, the tread pattern is designed to work great with all surfaces, but especially hard-packed surfaces. The tire grips dirt and gravel just as effortlessly as premium all-terrain tires that are almost two times more expensive.
Now, similar to the Bighorns, the A033 Power I performs great on other surfaces as well. The large tread lugs with aggressive shoulder knobs provide great traction and protection on rocks. But with that said, these tires don't do too well on deep mud. The voids between the tread lugs are not that large and get caked with mud.
Snow performance is surprisingly good. When aired down, A033 Power I grips very well on packed snow and almost floats over unpacked snow.
Lastly, while the SunF A033 Power I look similar to the Maxxis Bighorn, the Power I is bias and not radial like the Bighorn. Because of that, the Power I is heavier, less smooth, and has a shorter tread life than the Bighorn. A small tradeoff for a tire that performs so well for half the price.
4. Maxxis Mud Bug

– Best Mud Tire
But what if you need maximum traction on mud? In that case, look no further than the Maxxis Mud Bug. A quite funny name for an aggressive mud terrain tire, but let me assure you, the Maxxis Mud Bug is no joke.
Traction & Durability
With a tread pattern closely resembling the one used in heavy-duty agricultural tractors, the Mud Bugs easily tackle even the most severe mud holes. The sweeping, angled tread bars move mud away, thus ensuring maximum traction at all times. If these tires can't get you through, then nothing will.
As for grip on hard surfaces – it's not the greatest. The large voids between the angled tread bars reduce the contact patch and slide sideways if you take sharp enough turns. With that said, the Mud Bugs are also quite light and make the steering effortless.
The tough 6-ply bias design of the Mud Bug provides good protection against punctures and surprisingly does not sacrifice comfort too much.
5. Kenda Bear Claw EVO

– Best Snow Tire
Last but not least, what if you primarily use your Honda Forman 500 to plow snow? If that's the case, then Kenda has got just the right tire for you (and at a very affordable price).
Traction & Durability
Kenda's first-generation Bear Claw was a great success, but that wasn't enough for them. The new and improved Bear Claw Evo has raised the bar for all-around performance.
The aggressive tread with large center knobs and recessed-dimpled knobs provides outstanding traction on both packed and unpacked snow. The unique transition knobs further improve traction while cornering and provide additional biting edges for snow.
Surprisingly, the Bear Claw Evo does very well on hardpack and light-to-moderate mud. The tires feel responsive and provide confidence when riding on trails, similar to higher performing all-terrain tires.
Lastly, the Kenda Bear Claw EVO is a 6-ply, bias design tire, which means that it sacrificed a bit of tread life and comfort for grip and puncture resistance. Though, it rides pretty decently on pavement.
---
How to Buy the Best Tires for Honda Foreman 500
---
All-Terrain, Mud, Sand, or Racing ATV Tires?
When choosing tires for your Honda Foreman 500, the most important thing to keep in mind is your riding environment.
Do you most often ride around the farm on mud and soft dirt? Do you most often take your Foreman 500 to the trails, where the most common surface is hardpack dirt and rocks? These are the most important questions that you need to know the answer to before you spend your hard-earned money.
If you spend most of your time riding on hardpack, then all-terrain tires should be the best choice for you. But if your Honda Foreman 500 is a farm ATV, then you should be interested in mud tires.
Now, there are four main types of ATV/UTV tires: all-terrain, mud, sand, and racing. There are crossover performance qualities between them, but it's best to use them for their intended purpose.
Mud ATV Tires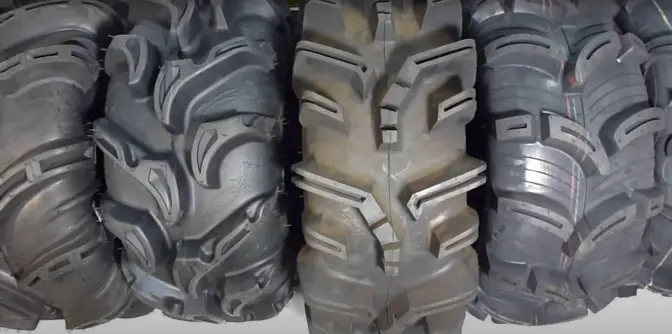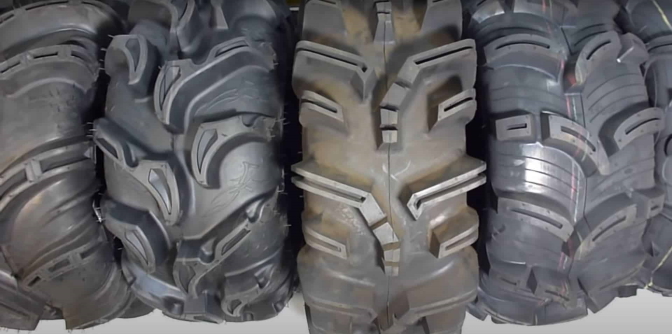 As the name suggests, Mud tires are specifically designed to provide maximum grip on soft, muddy surfaces. They have large individual lugs with large voids in between them. This helps the tire float over mud, clean mud away from the voids, and then push off the mud instead of digging down a hole.
Interestingly, mud tires do very very well on snow. So well, in fact, that tire manufacturers no longer produce ATV snow tires.
With that said, Mud tires are not really designed for hard surfaces, such as gravel, hardpack dirt, etc. Sure, they will get the job done, but not as well as All-Terrain tires.
Mud tires are most often 6-ply to 8-ply, and have a bias design, thus they are really tough.
All-Terrain ATV Tires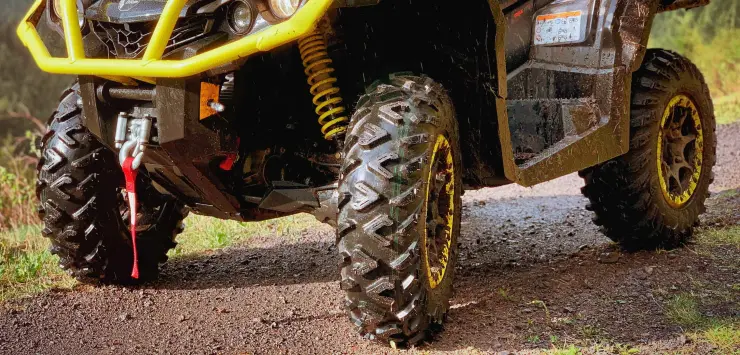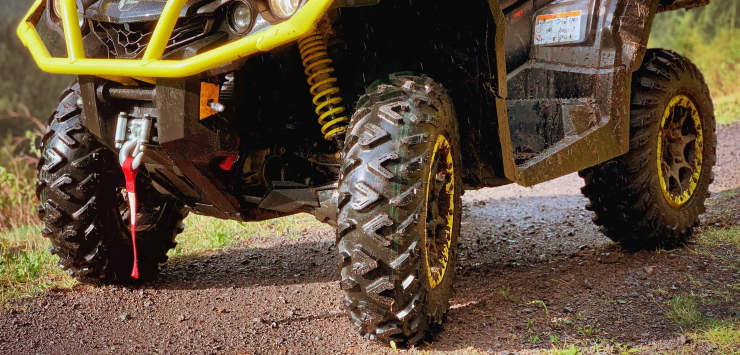 These tires are designed to provide good grip on all surfaces, and thus are the best choice in most cases. Their tread depth is oftentimes shallower than Mud tires, and they also have a larger contact patch, which gets caked up with snow and mud more easily.
If your Forman 500 sees a lot of extreme terrain riding, like deep mud holes and snow, then a more specialized tire might be the best choice. However, if you're mostly riding on hardpack, light-to-moderate snow, and mud, then all-terrain tires are the logical choice.
Most all-terrain tires are 6-ply and have reinforced sidewalls and rim protectors for rock crawling. A lot of them are radial design, though you can still find bias all-terrains.
Sand ATV Tires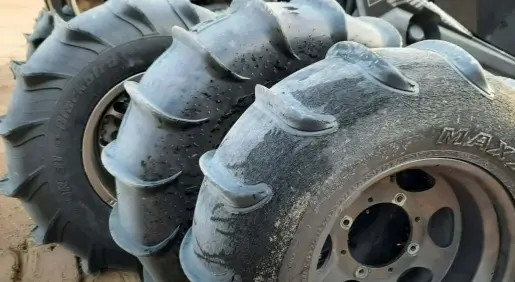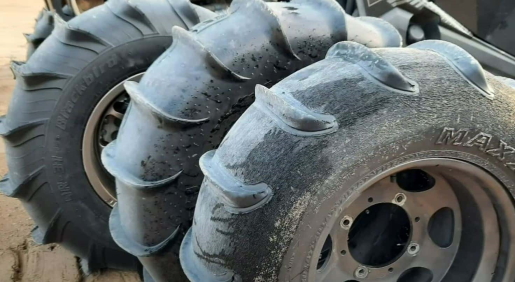 Sand tires are very different from any other ATV tire, that's for sure. The front and rear sand tires most often have staggered tread patterns. That means that the front sand tires are usually smooth and have only a single or dual raised ridge in the center, while the rear tires are also smooth but feature big paddles similar to paddlewheels seen in paddle boats.
These tires are generally only to be used on sand terrain and that's pretty much it. They're quite useless everywhere else. Furthermore, sand tires are most often 2-ply and not very resistant to punctures.
Racing/Sport ATV Tires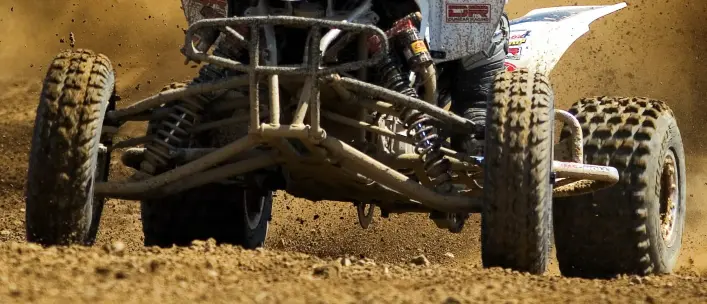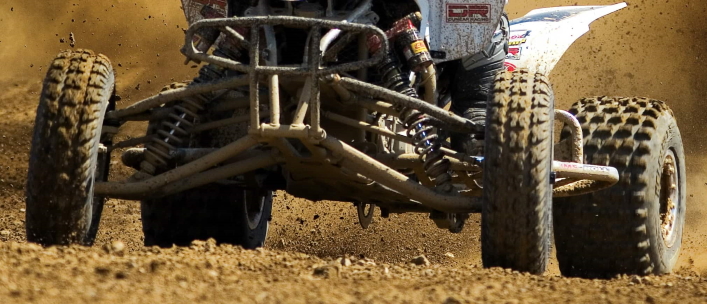 Racing tires have a consistent knob-type pattern and are made as lightweight as possible in order to save as much HP as possible.
They're designed for maximum grip and speed on all surfaces, though they don't do too well in deep mud. Because, of that, racing tires are not really the best pick for the Honda Forman 500 (unless you like high-speed racing of course).
Most racing ATV tires are 2-ply for maximum weight reduction and thus the tread wears out pretty quick on hard surfaces.
Radial or Bias?
You've probably seen these terms get thrown around a lot, but what do they even mean? Which one is better for the Foreman 500?
On bias tires, the tread and sidewall share the same ply cords. This lets the whole tire to flex and conform to the surface, which is perfect for heavy-duty applications, like rock crawling, severe mud, etc. The disadvantage of bias tires is that their tread life is shorter and they aren't as smooth at high speeds or racing on trails.
Radial tires use cords that extend from bead to bead at right angles to the center of the tire. This allows for better handling, smoother ride, much longer tread life, and even a slight increase in fuel economy. The main disadvantage of radial tires is that they are more expensive.
As for which is best for your Honda Foreman 500 – it depends.
Are you riding at high speeds on the trails? If so, then radial tires are probably best for you. But if your Foreman 500 is used as a work ATV and you don't plan on riding on pavement a lot or racing on the trails, then bias tires should be sufficient.
Choosing The Right Tire Size
After you've chosen which type of ATV tire you need, the only thing left is to figure out which size should you buy.
Now, you can put bigger and wider tires on your Honda Foreman 500, no matter which year model it is. The biggest tires that you can put on a stock Foreman 500 are 27".
In most cases, you won't have to trim the fenders if you run 27" tires, but some people had to since the rear tires were rubbing. As far as width, you should be able to run as narrow or as wide as you want. For more information on the biggest tires that you can fit on a stock Honda Foreman, check out this article.
To give you an idea, most people keep the stock 12" rim size, and mount 9" wide tires in the front for handling, and 11-12" tires in the rear for maximum floatation over mud. Of course, mounting bigger tires will mean that there is more weight on the wheels, which will use up a few extra HP from your engine, though that depends on the tires. However, the difference is minimal and barely noticeable in most cases.
Honda Foreman 500 Rim & Tire Size Chart
If you're unsure which size tires and rims come stock with your Honda Foreman 500, then consult the chart below.
Also Read: Can You Put Different Size Tires on Your ATV? – Pros & Cons
| | | | | |
| --- | --- | --- | --- | --- |
| Model | Tire Size | Wheel Size | Wheel Offset | Bolt Pattern |
| TRX500TM Foreman 05-06 (F) | 25×8-12 | 12×7 | 4.5+2.5 | 4/110 |
| TRX500TM Foreman 05-06 (R) | 25×10-12 | 12×7 | 3+4 | 4/110 |
| TRX500FPM Foreman 4×4 08-13 (F) | 25×8-12 | 12×7 | 4.5+2.5 | 4/110 |
| TRX500FPM Foreman 4×4 08-13 (R) | 25×10-12 | 12×7 | 3+4 | 4/110 |
| TRX500FM5 Foreman Rubicon 4×4 15-16 (F) | 25×8-12 | 12×7 | 4.5+2.5 | 4/110 |
| TRX500FM5 Foreman Rubicon 4×4 15-16 (R) | 25×10-12 | 12×7 | 3+5 | 4/110 |
| TRX500FM1 Foreman 4×4 14-19 (F) | 25×8-12 | 12×7 | 3+5 | 4/110 |
| TRX500FM1 Foreman 4×4 14-19 (R) | 25×10-12 | 12×7 | 3+5 | 4/110 |
| TRX500FM Foreman S 4×4 05-13 (F) | 25×8-12 | 12×7 | 4.5+2.5 | 4/110 |
| TRX500FM Foreman S 4×4 05-13 (R) | 25×10-12 | 12×7 | 3+4 | 4/110 |
| TRX500FE Foreman ES 4×4 05-19 (F) | 25×8-12 | 12×7 | 4.5+2.5 | 4/110 |
| TRX500FE Foreman ES 4×4 05-19 (R) | 25×10-12 | 12×7 | 3+4 | 4/110 |
| TRX500FA Foreman Rubicon 4×4 01-19 (F) | 25×8-12 | 12×7 | 4.5+2.5 | 4/110 |
| TRX500FA Foreman Rubicon 4×4 01-19 (R) | 25×10-12 | 12×7 | 3+4 | 4/110 |
Optimal Honda Foreman 500 Tire Pressure
Tire pressure is a touchy subject (just like engine oil) and every rider will give you a different answer. But the only guaranteed way to figure out the optimal tire pressure for your Honda Foreman 500 is to consult the owner's manual. Nobody knows your ATV better than the engineers that built it.
If you've lost your owner's manual, then you can use these cold tire pressures as a baseline. They were taken from the 2018 Honda TRX500FA Foreman 500 owner's manual, and should be roughly similar to other year models. Remember to only check and inflate your tires when they are cold.
| | | |
| --- | --- | --- |
| | Front | Rear |
| TRX500FA (No Cargo) | 3.6 psi | 3.6 psi |
| TRX500FA (With Cargo) | 3.6 psi | 3.6 psi |
| TRX500FPA (No Cargo) | 4.7 psi | 3.6 psi |
| TRX500FPA (With Cargo) | 4.7 psi | 3.6 psi |
Jake is the site's primary contributor.
Motorcycles and automotive repair have been a big part of his family for generations, therefore it's only natural that he decided to become a heavy-duty diesel tech.
Outside of work, you'll find Jake restoring and riding rare street bikes and ATVs.