The Harley Twin Cam 88 is a pretty great engine, but it can be so much better with just a couple of mods.
By far the most cost-effective mod that you can do to your Twin Cam 88 is installing a Big Bore kit. A Big Bore kit will increase the displacement of your Twin Cam 88 and add significantly more HP and torque – it will feel like a completely different engine.
If that piqued your interest, and you want to squeeze more power out of your Harley Twin Cam 88 with a Big Bore kit and have a blast doing it, then this article is for you.
Here are the three best Big Bore Kits for Twin Cam 88 and everything you need to know about them.
Also Read: How Much Does a Harley Stage 2 Upgrade Cost?
---
The 3 Best Big Bore Kits for Twin Cam 88
1. S&S 100" Sidewinder



• 10.5:1 Compression w/ Stock Heads
• Adds >30 HP & TQ
• Wrinkle Black Finish

Check Price On Amazon

2. S&S 98" Big Bore Kit



• 9.8:1 Compression w/ Stock Heads
• Adds ~30 HP & TQ
• Wrinkle Black Finish

Check Price On Amazon

3. S&S 95″ Big Bore Kit



• 9.7:1 Compression w/ Stock Heads
• Adds up to 30 HP & TQ
• Wrinkle Black Finish

Check Price On Amazon
---
1. S&S 100″ Sidewinder Big Bore Kit
There's no replacement for displacement and with the S&S Cycle Sidewinder kit, you will have all the displacement you could ever need.
The S&S Sidewinder Big Bore kit will increase your engine's displacement from 88 inches all the way to 100. We're talking about a massive increase in HP and torque – just check out the dyno sheet below.
Now, as far as getting out the maximum displacement with the least amount of effort – the 100-inch Sidewinder kit is as large as you can go without having to machine the stock crankcase. Furthermore, the Sidewinder kit contains everything that you need. Just replace the cylinders with pistons and you're done.
While this Big Bore kit is quite pricey, it's extremely well made, just as you would expect from S&S. It utilizes a Ductile Cast Iron liner wrapped in cast aluminum for maximum reliability and heat dissipation.
All in all, the 100-inch Sidewinder kit from S&S is no joke. If you pair it with a set of performance cams and an exhaust, then your Twin Cam 88 will rip your arms out of their sockets.
---
2. S&S Cycle 98″ Big Bore Kit
If the 100″ Big Bore kit above is a little bit too much for you, then the 98″ version might exactly what you're looking for.
But why should you choose a 98″ Big Bore kit over the 97″ kit? Well, the pistons in the 98″ Big Bore kit have a 10cc pop-dome and thus provide slightly more compression.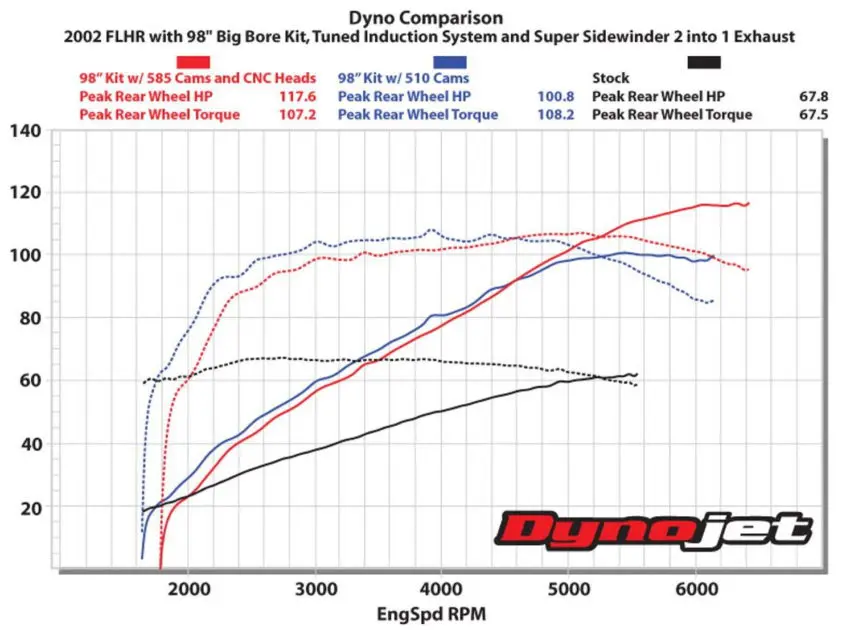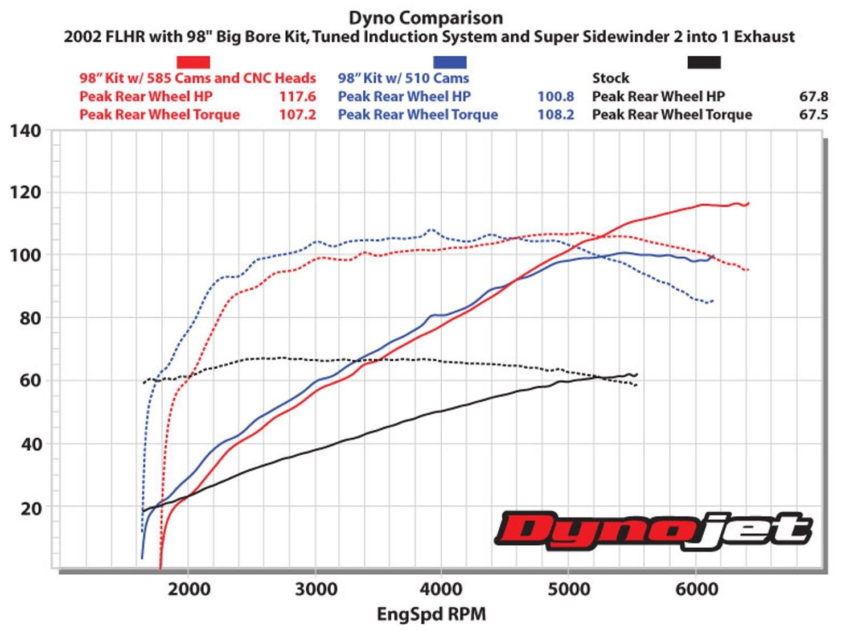 Slap on a pair of 510 cams and you'll have a crazy fast and reliable motor. What more could you ask for?
Now, this kit is completely bolt-on. No machining or anything like that is needed and you won't be having any fitment issues since the new cylinders maintain stock height.
The kit also features an increased cooling fin area, but still maintains the stock look with the wrinkle black finish, therefore you won't have to worry about overheating.
---
3. S&S Cycle 95″ Big Bore Kit
Last but not least – the classic 95″ Big Bore.
The 95″ Big Bore is probably the most popular choice as it strikes the perfect balance between reliability and power. It does not cause your crank bearing and everything else to wear out sooner, gets good fuel mileage, and runs great on average grade fuel.
As usual, the kit comes with everything that you need, including the assembly lube, and does not require any modifications. Of course, a set of cams, some headwork, and a tune would make your Twin Cam 88 really quick, without sacrificing reliability.
And because of that, the S&S Cycle 95″ is definitely one of the best Big Bore kits for a Twin Cam 88. It gives you the best bang for your buck, and most importantly – maintains reliability.
---
How to Buy The Best Big Bore Kit for a Twin Cam 88
---
Choosing a Big Bore kit for a motorcycle can get quite confusing, especially with all the supporting mods that are recommended in order to get the most out of a Big Bore kit.
To help you out, we've put together a quick Big Bore kit buyer's guide that should cover the basics of what you should know.
Related: The Best Carburetor for Harley Davidson Sportster 1200
Bore Size: 95″ vs 98″ vs 100″
There are all kinds of Big Bore kits available for the Twin Cam 88, but which one should you choose?
If you're looking for the absolute most power and displacement, and are willing to sacrifice gas mileage and reliability – then the 100″ Sidewinder is probably what you're looking for.
If you want to maintain reliability and fuel mileage, while also adding considerably more horsepower and torque to your Twin Cam 88, then a 95″ Big Bore should be on your radar.
Want something in between? Then get a 98″ or 97″ kit, slap some on some cams and you will be amazed at the results.
Boring the Cylinders at a Machine Shop vs Buying a Kit
Once you decide which bore size is the best for you, it's time to decide whether you're going to bring your OEM cylinders to a machine shop or buy an aftermarket kit.
There are benefits to both methods, but we usually recommend going with a kit. The main reason is that aftermarket cylinders are designed to be stronger and have better cooling fins. Furthermore, most kits come with forged pistons, which are much better than the cast ones that come with OEM cylinders.
The only reason you might want to bore your OEM cylinders is if you're on a tight budget, but even then – we recommend saving up for a kit, as it will be worth the investment in the long run.
Big Bore Kits Need Other Mods
While a 95″ Big Bore kit alone will add around +10 HP and +15 torque, you can get so much more out of your 95″ kit by combining it with better intake, exhaust, and a set of performance cams.
If done right, a Twin Cam with a 95″ Big Bore can reach a bit over 100 HP and torque. Now imagine what a 100″ Big Bore could do with all the supporting mods installed!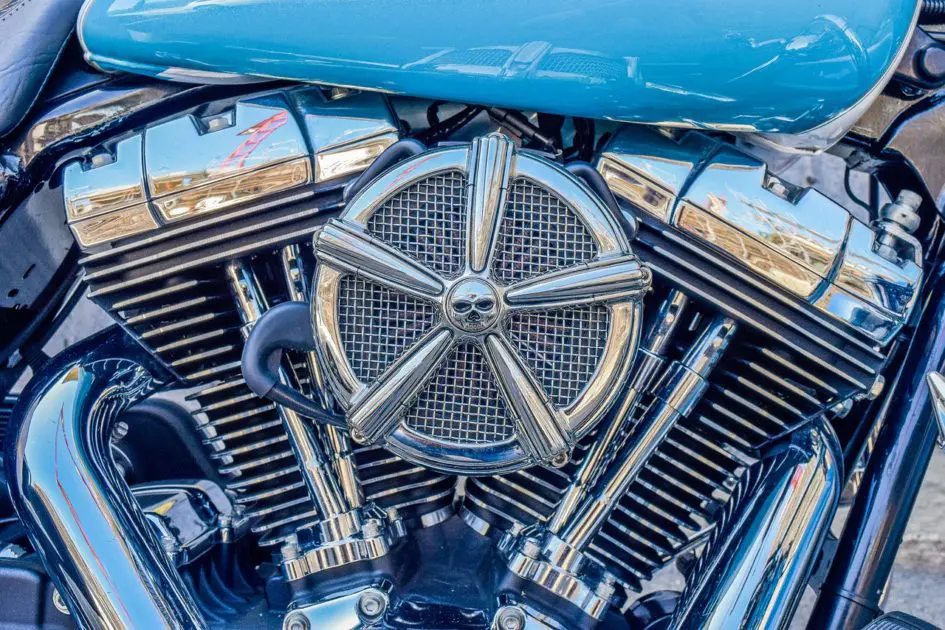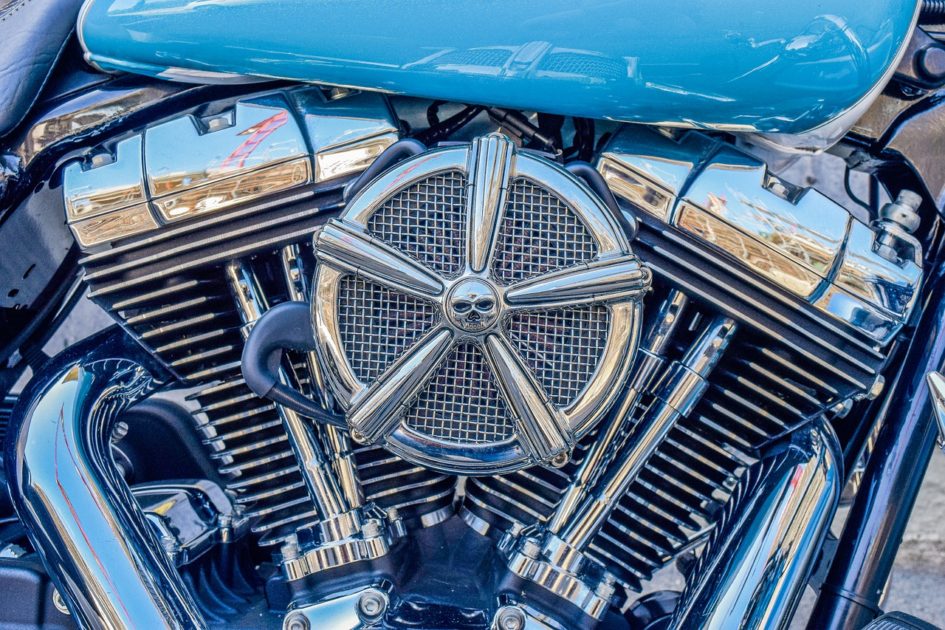 You should first consider letting your Twin Cam 88 breathe better by installing a performance air filter and a better flowing exhaust. These two alone should provide your Harley Davidson +10 HP, since the more air you can cram into the combustion chamber, the more power you can produce.
Once the air filter and the exhaust or slip-on are taken care of, it's time to move on to more serious mods – cams and pushrods.
With a set of performance cams, you can really squeeze some serious power out of your stock Twin Cam 88, let alone a one with a Big Bore kit.
The 585 cams are probably the most popular with guys that run 98″ Big Bore kits and it's what I choose to run as well.
With that said, there are loads of options to choose from, all you have to do is decide your HP and Torque preference.
Installing a Big Bore Kit Requires Decent Mechanical Knowledge
Installing a Big Bore kit on a Twin Cam 88 is not an easy task, but if you do know how a 4 stroke engine works, then you can do it all by yourself and save a bunch of cash in return.
Luckily, there are a lot of How-To videos that break the whole process down into incredibly easy-to-understand steps and a lot of them will come with the Big Bore kit that you order, straight from the manufacturer. To top it all off, manufacturers as professional as S&S Cycles will gladly answer any questions that you have over the phone.
With that said, if you have next to zero experience working on your Harley, then you should probably consider paying a professional to do the job for you. It will not be cheap, but it's surely better than destroying your engine if you mess something up.
88 to 103 Big Bore Kit – Is It Worth the Money?
Now, there are quite a bunch of different bore sizes to choose from, and a lot of people ask us whether it's a good idea to go from 88 all the way to 103.
In our opinion, 103″ is a decent choice, but you can get to 100 HP for much less money and maintain reliability by going with the 95″. That's right, a 95″ big bore kit with ported heads is the sweet spot and the best way to reliably get to the 100 HP mark, and then some.
If you want more than that, then you can go with a 103″ big bore kit, but remember that you'll have to port the heads and use high-compression pistons to make it work. With it, you can expect around 120 HP, but you'll be pushing the limits of reliability.
So, what's the bottom line? If you're looking for a big bore kit that will give you the most bang for your buck, then we recommend the 95″. It's reliable, it's powerful, and it won't break the bank.
If you want to really push your Twin Cam to the limit, then you can go with the 103″, but remember that it's not going to be cheap and you'll be sacrificing some reliability.
Frequently Asked Questions
Does a big bore kit make a difference?
Yes, a Big Bore kit can make a HUGE difference in horsepower and torque. You what they say – there's no replacement for displacement. A solid Big Bore kit with cams and headwork can increase your engine's power 2x.
Are big bore kits safe?
Every Big Bore kit that's made by a respected manufacturer is 100% safe to use and will not cause you any problems. The manufacturer thoroughly checks every single design aspect in order to avoid angry customers.
Jake is the site's primary contributor.
Motorcycles and automotive repair have been a big part of his family for generations, therefore it's only natural that he decided to become a heavy-duty diesel tech.
Outside of work, you'll find Jake restoring and riding rare street bikes and ATVs.