Working on ATV charging systems can be quite intimidating, especially if you aren't familiar with how they work.
Fortunately, the charging system on pretty much all ATVs is really simple, and you can get the basics down in 15 minutes or less. All you need is to get a quick overview of what each component does and what symptoms does it produce once it goes bad.
If you're suspecting that your ATV's stator is going bad or has failed, then this article is just for you.
We'll cover bad stator symptoms on ATVs and how to test them.
Bad Stator Symptoms (ATV)
When the stator goes bad, it usually produces these symptoms:
Weak Charging Voltage – once the stator starts going bad, it will gradually produce less and less voltage while the engine is running
No Charging Voltage – if the stator burns out and fails, the ATVs alternator will stop charging the battery completely
No Spark – some stators power the CDI directly, if they fail then the CDI won't produce spark
Rough Idle – a bad stator will lead to weak spark
Dim Headlights – a bad stator will not supply enough current to fully power headlights
Sluggish Acceleration – due to weak spark
What is a Stator & What It's Used For
In case you're not totally sure what the stator is and what it's used for, here is a quick reminder. For a full explanation of what a stator is, how it works, and what it's used for, check out this article – What Does a Stator Do on a Motorcycle.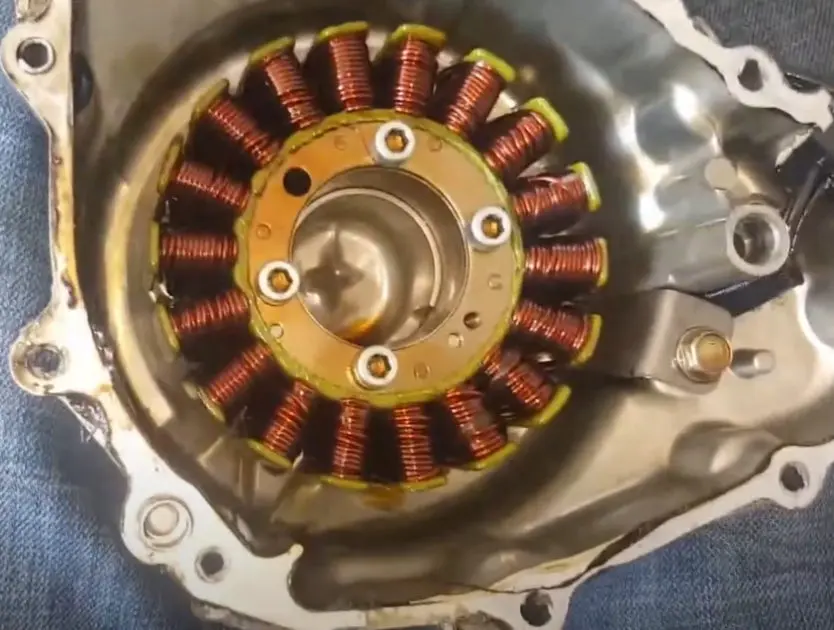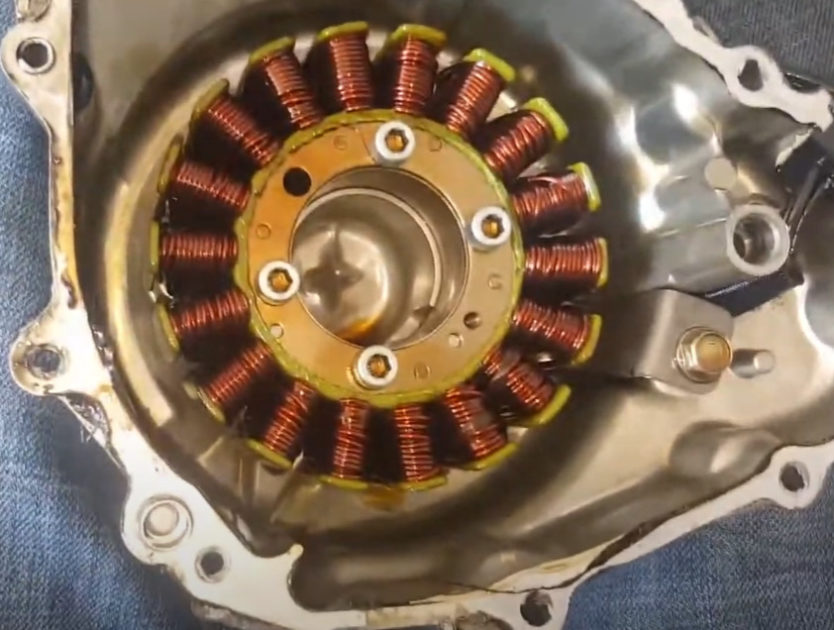 To put it simply, the stator is the stationary half of the ATV's 3-phase generator (commonly known as the alternator). When the rotor, also known as the magneto on ATVs, spins around the stator, it induces an electrical current inside the copper windings of the stator.
That induced electrical current inside the stator is used to power the ATV's electrical system and to charge its battery. Some stators have one or multiple coils that are dedicated to power the CDI.
How To Test an ATV Stator
Testing the stator of an ATV is really simple. All you will need is a multimeter – that's it. A service manual with the proper specifications would be tremendously helpful but is not needed.
1. ATV Stator Short to Ground Test
First, you need to locate the stator wiring harness. It usually has three wires of the same color. Try to look for the wires coming out of the alternator/magneto cover – that should be your stator harness.
Follow the harness to the connector and disconnect it.
Now, turn on your multimeter and select the continuity mode (Ω).
Take the stator side of the harness and check for continuity to ground on each of the three wires.
You can do that by touching one lead of the multimeter to the battery negative, the engine, or any other bare metal part of the ATV, and then touching each of the connector terminals with the other lead. Do not spread the contacts, because that might result in connection problems later.
There should be no continuity to ground at all. If there is, then your stator is bad and needs to be replaced.
2. ATV Stator No Load Performance Test
The short to ground test is not 100% foolproof, therefore you need to follow up with the No Load Performance Test.
Actually, this test can alone determine if the stator is good or bad, but you need to know which values to look for.
Different model ATVs produce different output voltages at the stator, therefore you need to know which values are good and which ones are unacceptable. You can either search around for a service manual or look around forums.
With that said, here's how you should do this test.
Make sure that the stator harness is disconnected.
Set your multimeter to VAC (V~) as we will be measuring alternating current.
Start the engine and raise the RPMs to around cruising speed (2000-3000 RPM). Now touch one lead of the multimeter to one of the stator connector terminals and the other to the other terminals. Make sure to test all three combinations. Total of three measurements.
The ATV stator output voltage should be >70 VAC at cruising RPM. Depending on the specific model, 60 VAC can be acceptable too. Consult your service manual if unsure.
If the stator output is less than 50 VAC, then it needs to be replaced.
Final Thoughts
The ATV's stator is a very simple component and it's pretty simple to test too.
In most cases, the stator will start to go bad gradually and give some obvious warning signs and symptoms.
The most obvious and common bad stator symptoms for ATVs are low or no charging voltage. The stator usually starts producing less and less charging power to the battery and will eventually burn out and stop producing electrical power completely.
Jake is the site's primary contributor.
Motorcycles and automotive repair have been a big part of his family for generations, therefore it's only natural that he decided to become a heavy-duty diesel tech.
Outside of work, you'll find Jake restoring and riding rare street bikes and ATVs.